MIRIAM

MIRIAM & NOBODY'S BABIES 2017 DATES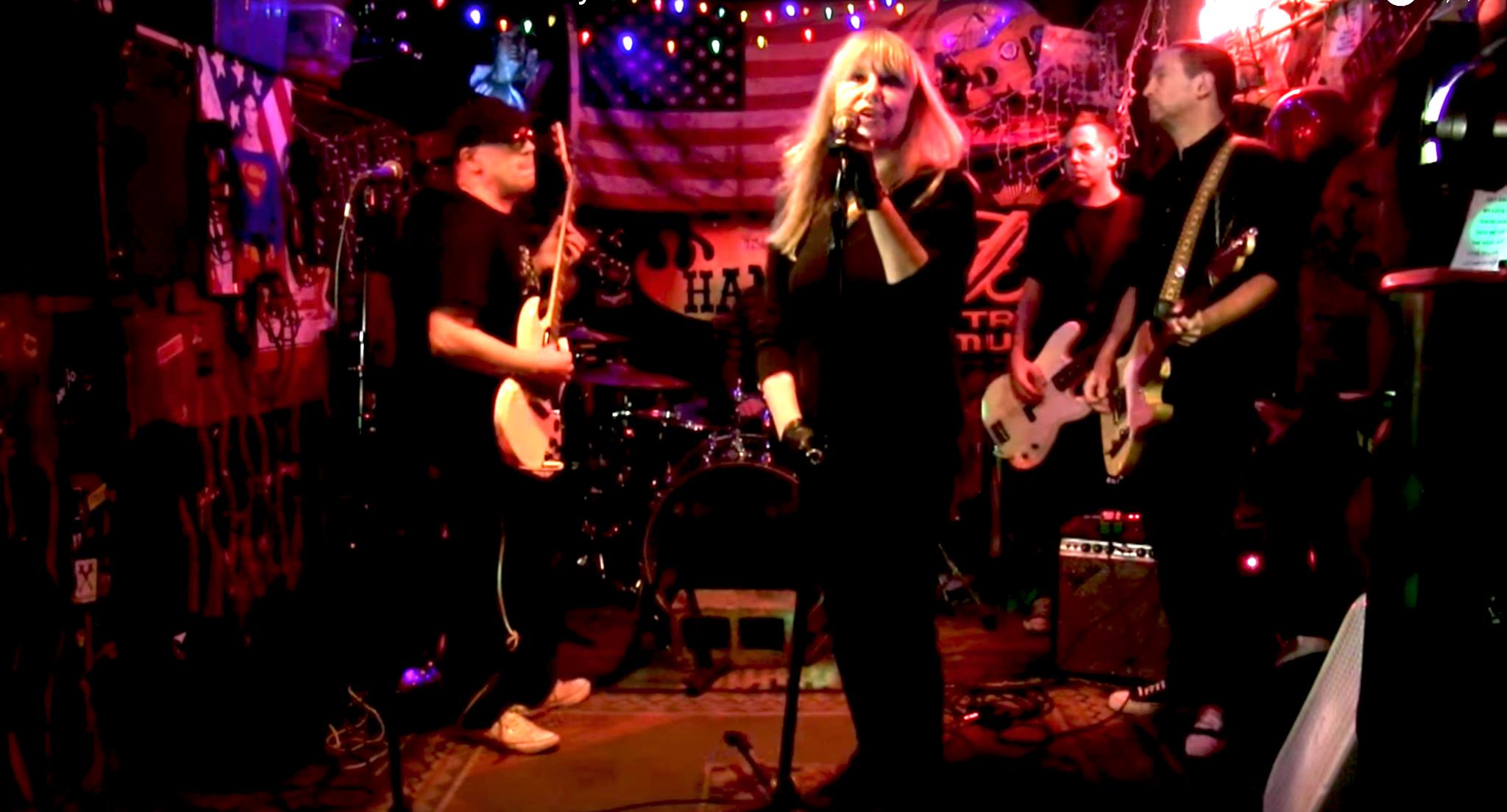 BOWERY ELECTRIC NOV 29 WITH LAMF 40th ANNIVERSARY SHOW
Miriam and Nobody's Babies are opening for the (sold-out) LAMF 40th Anniversary Show at Bowery Electric this week. If you have tix for the 9:30 show get there on time to see us (or late to miss us). In addition to those pictured, we'll be joined by Matt Clarke, Bruce Bennett, Ira Kaplan and Justina Davies. That's almost as many band members as Sha Na Na.
PS Note Sam in white shoes, white SG.

Tonight! Miriam and Nobody's Babies will "hit the stage" at 9 PM at the fabulous Bowery Electric with faves from our records and also some adventurous surprises! Thank you Richard Lloyd and crew, and Diane Gentile at the Bowery for inviting us to join them on this very special night. Giant kudos to the Babies- Sam Elwitt, Matt Fiveash, David Lindsay, Ira Kaplan, Justina Davies, and oh yes, the baby of the Babies tonight, Matt Clarke! It will be great to see you- thanks for the encouragement and support-- boots, start rockin'!
Miriam Linna began her music career as the first drummer for the Cramps in 1976 New York. The Sudbury, Ontario, native went on to pound the skins for the Zantees and frat-rock luminaries the A-Bones (who appeared at the 2009 Ponderosa Stomp backing Roy Loney and Cyril Jordan of the Flamin' Groovies). Linna is perhaps best known for co-founding the legendary Kicks magazine and Stomp favorite Norton Records, both with her husband Billy Miller.

In 2014, Linna teamed up with producer Sam Elwitt to release her first solo album, the wall-of-sound tour de force Nobody's Baby (Norton), which was lauded as the best album of 2014 and reached #1 on the influential WFMU. Linna hit the ground running in 2015 with the smash single "The Hand Don't Fit The Glove" b/w "Take Me For A Little While." She is currently working on a new album for fall release.

Miriam Linna will be joined onstage by her backing band, Nobody's Babies, led by Sam Elwitt, with Bruce Bennett, Justina Davies, Matt Fiveash and David Lindsay.
LPs & CDs
(Norton 397) Long awaited debut delivers a full-on footlong of throbbers that clobber! Massive Brillco loud sound abundance from producer Sam Elwitt! Dig the single, too!

My Love Has Gone/So Lonely/So You Say You Lost Your Baby/There Goes My Babe/Cut And Come Again/Walking Down The Street/I'm Nobody's Baby Now/I Never Told You/Let Him Go Now/It Happens Every Time/Questioningly/Not For Me
This album is also available for download:
(Norton 409) Second album from Miriam - produced and directed by Sam Elwitt!
The Hand Don't Fit The Glove/I Keep Falling In Love/Take Me For A Little While/Chery's Going Home/Get Away/Don't Talk To Strangers/Down Today/Love To Love/Afterglow/One More Rainy Day/Don't Be Taken In/Our Love Can Still Be Saved/Which End Is Up/You've Got A Habit Of Leaving
WWW.MIRIAMLINNA.COM
7 INCHES

Two boss sides from Miriam and monster producer legend Sam Elwitt-- both from the upcoming new album, slated for fall release!
MIRIAM - SOME THINGS JUST STICK IN YOUR MIND/SAM ELWITT ORCHESTRA - IN ANOTHER LAND

(9670) Hit making duo Miriam and Sam follow up to their smash LP with a perfect pop pairing!
MIRIAM - MY LOVE HAS GONE/THERE GOES MY BABE
(45-183) Miriam steps out from behind the A-Bones drum kit for her first solo outing-- two songs from the upcoming NOBODY'S BABY album. Produced by Sam Elwitt. Of course!

click LP image for
BROOKLYN VEGAN story!
NOBODY'S BABY is the title of the debut album by A-Bones drummer Miriam, produced and recorded by Brookyn's legendary Sam Elwitt. Now, the studio recordings of stormy lost ballads comes alive at the Bell House December 5th at the big Norton Records/Kicks Books Holiday Spectacular A Go-Go Weekender!
The long player features a dozen lost diamonds that the pair deemed too cool to go forgotten, including the soaring signature title track, plus an unreleased 1965 Neil Young demo (inked for Cher) -- all cut with more than a nod to the production styles of Andrew Loog Oldham and Jack Nitzsche.
The album was recorded with Sam on all instruments and Miriam on all vocals, with a big studio sound – there was no inkling that they would be called upon to deliver the songs in person. That, however, is exactly what happened, and Nobody's Babies, the band, was hatched, with David Lindsay (drums), Justina Davies (percussion), Matt Fiveash (bass), and Alec Higgins (keyboards) joining Sam on guitar to blaze through a three date Canadian hazing and a crazed NYC debut.
Click the Vegan link!
HUFFINGTON POST'S HOLLY CARA PRICE DIGS "BABY"!
click below for full article!
PLEASE KILL ME REPORTS FROM THE BOWERY!
click below for full story!
KRIS NEEDS SPEAKS!
When SHINDIG's Kris Needs said he dug the album, we felt glad all over!
SHEILA B. DIGS NOBODY'S BABY!
Sheila B, like Diane G at Bowery Electric, Glynis Ward at Crayons To Perfume, Debbie D. at Ichiban and Holly Cara Price at Huffington Post were the first people to go ape over NOBODY'S BABY--
MIRIAM IS A "CRAYONS TO PERFUME GIRL"
CRAYONS TO PERFUME
'S
GLYNIS WARD SPEAKS! WFMU'S Ichiban columnist, DJ Glynis Ward digs NOBODY'S BABY! Thank you to top dolls Glynis and Ichiban's excitable and exciting hostess Debbie D!
THE WIRE DIGS "BABY" - BYRON COLEY AT THE WHEEL!
DAN FERGUSON CLICKS BABY AS A HIT PICK!
(Click the photo above to purchase a t-shirt!)
SRIN's DAN FERGUSON SAYS…
The recently departed Gerry Goffin would be flippin' in his grave if he could give a whiff to the solo debut from A-Bones drummer Miriam Linna. The Brill Building sound comes alive on this 12-track outing of 1960s-styled, ear-pleasing girl pop & roll. As Ms. Linna herself describes, "This album is a collection of personal favorites from the mid-sixties (primarily) featuring unheralded, broody monsters from bubbling-unders (and overs) - we even recorded an original heart-buster which we hope you dig the most. Somewhere along the line, a gust of wind took off with my last name and I became a one-name person, like Cher. Or Rasputin, for that matter." What began as Miriam cutting a single track with studio ace Sam Elwitt soon after took on a life of its own resulting in the foot-longer called Nobody's Baby. So here we have Miriam dipping into the catalogues of a wide ranging collection of cool cats from Gene Clark ("So You Say You Lost Your Baby") to Neil Young ("There Goes My Babe") to Tim Buckley ("It Happens Every Time") to the Ramones ("Questioningly") to Bobby Darin ("Not For Me") and delivering pure ear candy in the process. The album features Miriam on all vocals with Elwitt handling just about all the instruments. It has this writer hoping there will be more from where this came from.
HOWARD THOMPSON GOES ALL OUT FOR NOBODY'S BABY!
Photo: Jacob Blickenstaff
MIRIAM & SAM AT RAMONES TRIB NITE AT BOWERY ELECTRIC
Click to read David Fricke's review of the show
Sunday night brought in the 40th Anniversary of the Ramones first show on the Bowery-- at (where else) the BOWERY ELECTRIC, located just a few steps from where the boys first blew our gourds at CBGB's. Diane Gentile slated Miriam and Sam to the tribute, where they performed "QUESTIONINGLY" from the NOBODY'S BABY album. All proceeds from the show went to
LOVE HOPE STRENGTH!
Miriam and Joey 1977 by Roberta Bayley
STEVE TERRELL • BIG ENCHILADA DIGS IT!
Photo by Jacob Blickenstaff
Badges courtesy DJ Gary Schneider of scenic California